16th March, 2021, 7:33 PM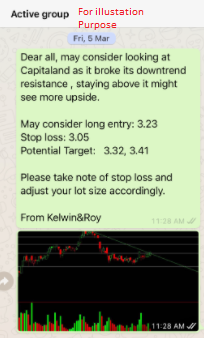 Chart Source: Poemsview 16th March 2021
Capitaland saw a nice push in its price as the recovery theme continues to be in play. Even some reits saw a rebound in their prices. It was about a week ago when Capitaland caught our eyes as it started to break above its downtrend resistance line. Upon this break, we alerted our EXCLUSIVE CLIENTS and soon enough Capitaland started its move. Another stock hongkong land had made a move earlier on and now its Capitaland's turn!
It has hit our first target of $3.32 with a short term resistance of around $3.36 and then our second target of $3.41.
Volume also started to increase which could help sustain this rebound to our targets.
Want to position yourself before a potential move?
Want to cut through the noise and get such trade alerts straight to your handphone?
Then be our EXCLUSIVE CLIENT and find out how much value is waiting for you!
See you onboard soon!
Yours
Humbly
Kelwin&Roy