31st May, 2021, 7:40 PM
Chart Source: Poemsview 31st May 2021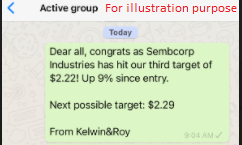 Another stellar performance by Sembcorp Industries as it moved up to test the previous high of $2.24. It has been performing well over the last few sessions and has met our rebound target of $2.22 which is about 9% upside in just a week! It actually broke above this resistance but failed to close above it. The volume that came in wasn't bigger than the previous day which is a concern for us now. For traders at this point taking some profits might be on the cards as those who were stuck at these levels might want to come out.
Unless it can stage a strong close above this level then we might see $2.29. The candle for today's close is not the nicest so its time to be cautious. The next upside target might be $2.29.
Don't want to miss out on our next Trade Alert? Be our EXCLUSIVE CLIENT and be included in our next trade alert! Sembcorp Industries has been a stock which we have been alerting since January, hope it has been good for you all.
Yours
Humbly
Kelwin&Roy