29th January, 2021, 7:14 AM
Chart Source: Poemsview 29th Jan 2021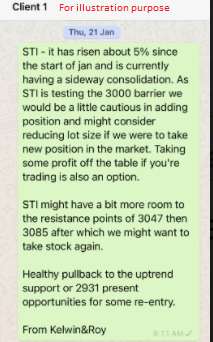 Straits Times Index currently having a pullback from a high 3017 which might have come as a surprise for some but we're thankful that our EXCLUSIVE CLIENTS were warned of this pullback last week. STI had moved up over 5% since the start of Jan and along with other  markets it looked tired and was tough to push higher. True enough some pullback came which is healthy in our view.
We have drawn some support levels for the STI with the 50ema of around 2866 being our major support. Support levels might present chance to scale in for long term stocks.
Want to have such updates sent to your handphone straight?
Then be our EXCLUSIVE CLIENT and find out how you can be included in our trading community.
See you onboard soon!
Yours
Humbly
Kelwin&Roy