30th July, 2019, 5:38 PM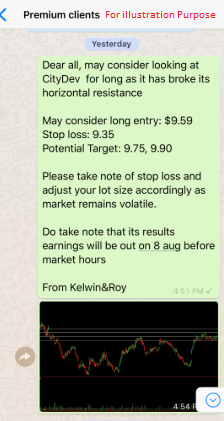 Chart Source: Poemsview 30th July 2019
CityDev started its upwards movement yesterday and we're glad our EXCLUSIVE CLIENTS were alerted at $9.59. Many have been asking why CityDev ran and not other blue chip property counters like Capitaland and UOL. Some reasons could be the sale of its recently launched Punggol EC or the upcoming fed meeting which might signal interest rate cut or maybe an update of its take over of the Milennium &Copthorne hotel. 
We also saw the chart being nicely set up as volume started to come in in the late afternoon which was one signal to us.
We're glad that CityDev hit our upside target of $9.90 up 3% since our entry and as you can see started to have some retracement. As we always say, its always good to take some profit along the way and be methodical about it.
Looking at $9.90 resistance now and if that breaks we might see $10.10. Slow and steady does it!
Want such Alerts sent straight to your handphone?
CLICK HERE to see how you can learn how to plan a sound and actionable trade plan and to be part of this EXCLUSIVE COMMUNITY to enjoy such value added services.
Yours
Humbly
Kelwin&Roy