30th November, 2020, 7:49 PM
Chart source: Poemsview 30th Nov 2020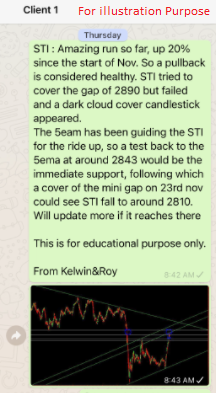 Our Straits Times Index (STI) had an impressive run for the month of Nov up close to 20%! It is probably one of the most amazing month for our index in a long while. But as the saying goes, what goes up, must come down!
With such a steep upside we suspected a pullback would be on the cards very soon. So we sent a message warning our clients of a pullback and sharing our thoughts. We also attached a chart so that they'll understanding it better.
The Straits Times Index saw a massive profit today after such a huge run up. The initial support at the 5ema gave way and the the downside started coming in. This took the index down over 2% to about the 10ema of about 2810. We're glad we alerted our clients last week of a potential downside. A pullback like this is considered healthy to us if the market wants to sustain its upside move.
So what's next for our index? Let's see the charts and from it we might continue seeing some selling pressure if STI can't stay above this 10ema support and might see it move down to even test the 20ema.
Be alert!
Want to cut through the noise and get such trade analysis straight to your handphone?
Then be our EXCLUSIVE CLIENT and find out how much value is waiting for you!
See you onboard soon!
Yours
Humbly
Kelwin&Roy