24th September, 2020, 8:09 AM
Chart Source: Poemsview 24th Sept 2020
Our three local banks has been on a downtrend for awhile due to the weaker economic data, bleak outlook and a low interest rate environment too. The downward pressure has been rather strong and the question is, is the end in sight? Also, as the three banks take up a rather big weightage in the STI, how the STI moves depends quite a bit on how these banks move too.
Let's take a look at our first bank DBS.
From the chart, we MIGHT see a temporary short term support at around $19.50 area which is our horizontal support. A nice strong candle appeared yesterday and this bounce might take us to our downtrend line or maybe even to $20.60-20.80. From there on, downwards pressure might start to come back in.  A good level to start considering scaling in might be around $19.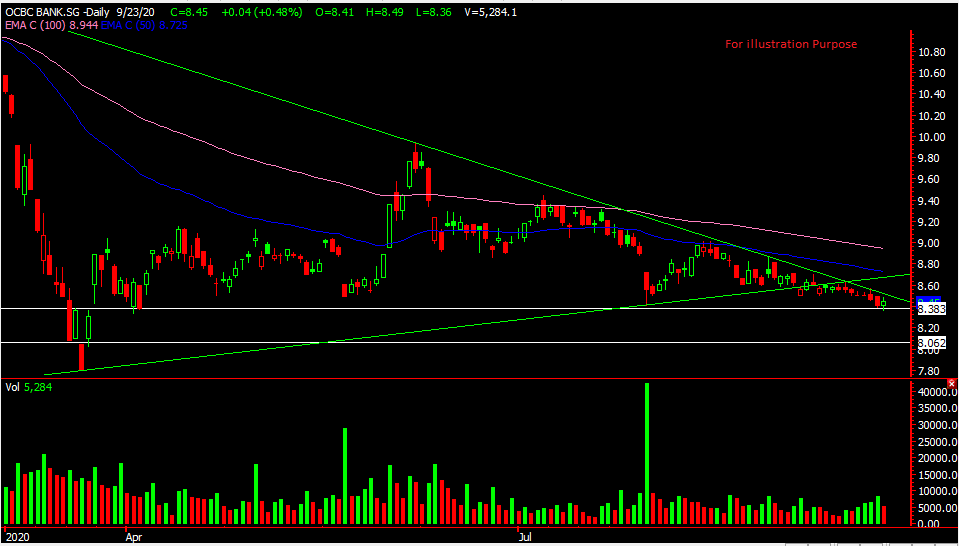 OCBC similar to DBS has also seen some support at the horizontal support of around $8.38. If this bullish momentum can carry on we might see OCBC break out from that downtrend line and maybe even to $8.7 and $8.9 if market remains well. After that we might see downwards pressure coming  in. A good strong support might be at around $8.
UOB is rather interesting. It actually broke the downtrend line, hover a few days and came down and actually tested the downtrend which became a support. The near term resistance might be $19.34 breaking which we might see $19.74 and maybe even $20.30. A good strong support is around $18.19.
Want to know more about our three local banks?
Just simply drop us a message and we'll be happy to discuss more.
Yours
Humbly
Kelwin&Roy