29th June, 2016, 3:52 PM
Crazy news!! The STI is just 7 points away from friday's high when brexit was announced. It as if Brexit didn't happen and all it took was just two days for the market to recover back to where it started. Amazing? Crazy? Well, welcome to the stock market, where anything goes and rational thoughts goes out the window.
It might see irrational that market can just recover so fast and you might be lost by now. Well, we too have been stunned by the recovery but as we mentioned before please ensure that your stop loss is in place. We can't and won't get every direction right that's why we need our stop loss in place for moments like this.
So stay calm and lets see what the chart says now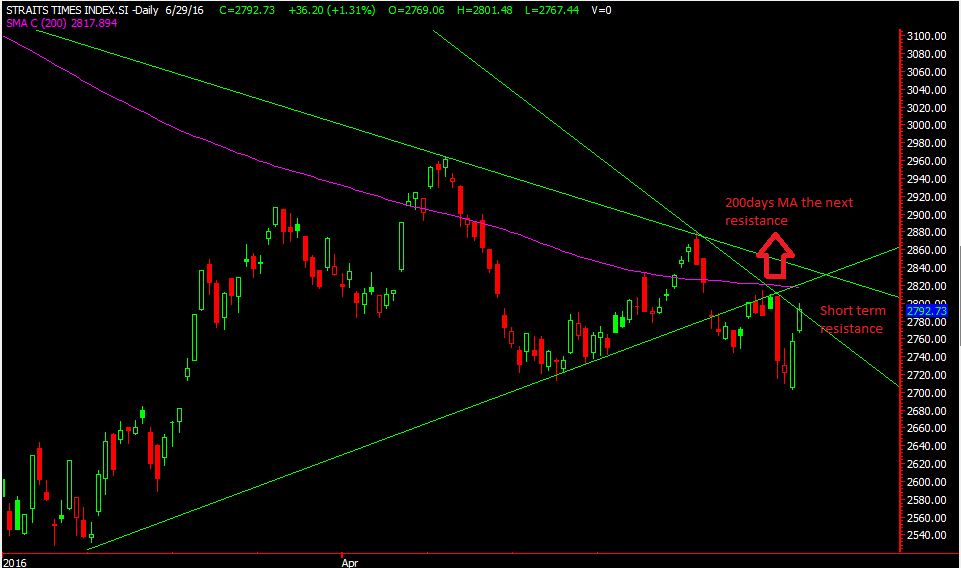 As we can see, the short term downtrend was touched and pulled back after that, the next one to look out for would be the 200ma at 2817 then finally if that holds then 2837.  These are some of the resistance points we are looking at. IF the index shows weakness at these areas we might look for shorting opportunities.
Yours
Humbly