10th January, 2021, 8:10 AM
Chart Source: : Poemsview 10th Jan 2021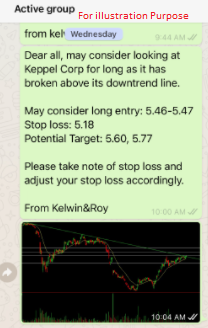 Keppel Corp is part of the STI component stock and it broke out of its long term downtrend line last Wednesday which was a bullish price action for us. We alerted our EXCLUSIVE CLIENTS on this breakout and we're glad it started to move up the next few days.
From the chart this move could have further legs as it has consolidated for around a month and we can see volume coming in the last few days too. We could use poems CFD to swing this trade to around $5.77 and if market continues its bullish we might see Keppel Corp push to $6 in the coming weeks. With Keppel Corp trying to monetise some of its $17.5 billion of assets over time might be a catalyst for further upside. It has also laid out its 2030 blueprint back in may2020 which could boost its longer term horizon. We prefer to swing this trade using poems CFD which you can learn more over HERE.
Missed the breakout for Keppel Corp? Want such trade alerts sent to your handphone straight?
Then be our EXCLUSIVE CLIENT and find out how much value is waiting for you and how you can be included in our community.
See you onboard soon!
Yours
Humbly
Kelwin&Roy