21st March, 2019, 5:17 PM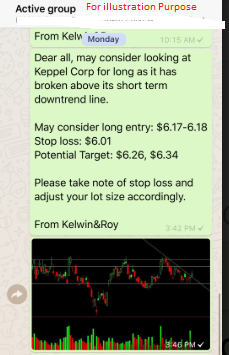 Chart  Source: Poemsview 21st March 2019
Keppel Corp had a good finish today as it came in one of the Top10 gainers for our STI component stock.
Oil was up overnight hitting 2019 highs hence giving a boost to Keppel Corp.
An earlier sign was seen as Keppel Corp actually broke above its short term downtrend line and also above its 20ema.
Our EXCLUSIVE CLIENTS were alerted once it broke at $6.17 and Keppel Corp held its ground as volume came in to support it. Our first target was met at $6.26 with Keppel Corp pushing pass it to a day high of $6.29 but failed to close above our first resistance of $6.26.
A break above that might see Keppel Corp moving to our next target of $6.34 then $6.40 eventually. Watching Keppel Corp.
Want such Alerts sent straight to your handphone?
CLICK HERE to see how you can learn how to plan a sound and actionable trade plan using a simple indicator like the moving average and to be part of this EXCLUSIVE COMMUNITY to enjoy such value added services.
Yours
Humbly
Kelwin&Roy