27th July, 2021, 7:04 PM
Chart Source : Poemsview 27th July 2021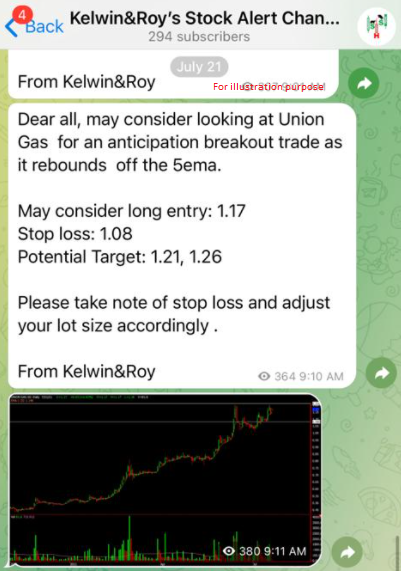 Union Gas gave us something to cheer about as firstly it broke out just in time within a week, bonus for our clients and traders. Secondly, in the sea of red, it managed to up 7% going against the odds.
Lets use technical analysis and analyze what might be the possible outcome for Union Gas. We can see that the volume is increasing and in fact the highest for the last 5 months! But there is one thing that is a little uncomfortable for us is that it didn't manage to close above the $1.20 resistance. We're glad we spotted this before the breakout at $1.17 and was anticipating a breakout given the underlying strength in it. Union Gas has to break above that $1.20 resistance if not profit taking might start coming in. The uptrend line or the 20ema shall be the support for now. Some upside targets we're looking at is $1.26 then $1.30.
Want to be alerted earlier before the breakout?
Want to know what stock we're looking at next?
Be our EXCLUSIVE CLIENT and be alerted earlier to not miss out!
Yours
Humbly
Kelwin&Roy