31st August, 2021, 7:41 PM
Chart source: AdvisorXs 31st Aug 2021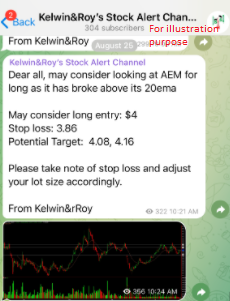 Just a week ago we spotted AEM having some movement as it managed to cross its 20ema at $4. It started to slowly make its way up and as Nasdaq continue to make new high and some positive sentiments flowed over to our electronic stocks. But what probably led the charge was the news released during lunch time when AEM was chosen by Major memory IDM company for its system level test (SLT) provider. Good thing was that we didn't need to chase after the stock as we were well positioned for any potential move!
That gave a good boost to AEM  helping it hit our second target of $4.16. Volume came in and we might see our third target of $4.22 hitting in the coming trading days. Some profit taking might come in soon too.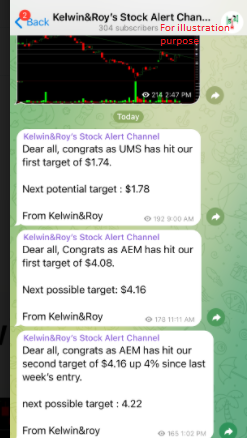 Its the end of Aug and its been quite a month as we celebrated Singapore's birthday and also a new milestone as we shared over 15 trade alerts this month to our EXCLUSIVE CLIENTS!
Want to be alerted of such potential entry?
Be our EXCLUSIVE CLIENT and find out how to be included in our growing community.
Yours
Humbly
Kelwin&Roy