8th June, 2020, 7:25 AM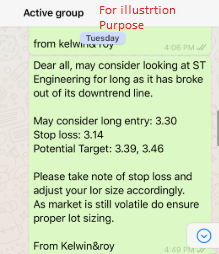 Chart Source: Poemsview 8th June 2020
St Engineering is no stranger to most Singaporeans as it is also one of the STI component stock. It was hit badly at the start of the Covid panic and has since seen some recovery.
Investors/ traders were initially afraid of its aerospace arm which could take a bit hit due to the cut in air travel. Nonetheless, ST Engineering still a good defensive play as it many other components like the Smart City.
We alerted our clients just last Tuesday ( 2nd June) when ST engineering was trading at $3.30 when it broke its downtrend line . We're glad that it managed to recover 7% hitting our third target of $3.54. It had a good closing and we're watching to see if it can break $3.54 which might take us to our next target of around $3.64.
Stay alert and let's watch!
Want to be part of this EXCLUSIVE GROUP that were alerted of such a trade analysis?
Wait no more! CONTACT US NOW to see how you can be part of this group to receive value added service sent straight to your handphone.
Yours
Humbly
Kelwin&Roy