27th February, 2022, 4:34 PM
Fighting has erupted over in Ukraine as Russia forces begin its invasion! Its something not totally unimaginable but something we all really want to avoid. Unfortunately Putin has given the green light and lives had been lost over the week. Hoping for a quick resolution to this and for both countries to go back to the negotiation table.
News of fighting has definitely sent the markets into a sharp sell off, a move also not surprising. For INVESTORS who sold, they might have found themselves in a bit of a tight spot as market rebound eliminating the downside even for the week! As we continue to remind our clients the importance of remaining calm and investing into fundamentally good stocks lets look ahead to see what the week ahead might bring for us.
Key Events to Watch For 
Markets will continue to watch for new developments on the fighting front and will turn its eyes back onto data when the situation has stabilize.
Wednesday – ADP Nonfarm Employment Change (The ADP National Employment Report is a measure of the monthly change in non-farm, private employment, based on the payroll data of approximately 400,000 U.S. business clients. The release, two days ahead of government data, is a good predictor of the government's non-farm payroll report. The change in this indicator can be very volatile.)
Thursday – Fed Chair Powells Testify (Federal Reserve Chair Jerome Powell  is to testify on the economic outlook and recent monetary policy actions before the Joint Economic Committee, in Washington DC. The testimony is in two parts; the first is a prepared statement, then the committee conducts a question and answer session. The Q&A portion of the testimony can see heavy market volatility for the duration.
 Friday – Nonfarm payroll, Unemployment rate
Taking note of the Fear & Greed Index and the AAII Sentiment index.
Source: https://money.cnn.com/data/fear-and-greed/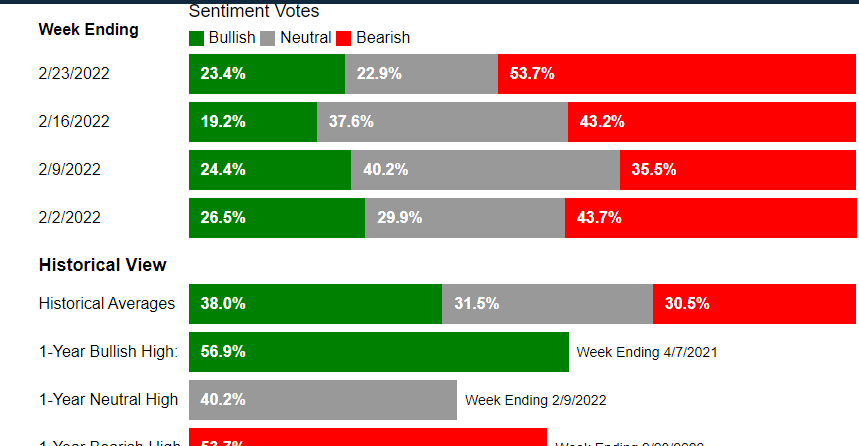 Source: https://www.aaii.com/sentimentsurvey
These are some indicators to gauge the market sentiments and as we can see, market is getting more bearish and with the recent events that is happening, more bearish sentiments are around. As we have mentioned previously, S&P500 correcting about 15% is not unexpected and INVESTORS might have to take the chance to pick up quality stocks. Whenever market is at extreme fear, that's when we should take advantage of it and not buy into the FEAR. Of course this will take studies and analysis and conviction.
For traders, ensure you have proper set ups ready! DO NOT ENTER without a trade plan and especially without a stop loss.
Technical Levels to Watch For This Week
STI

As we kept cautioning about a possible retreat in the STI, it has happen and with such ferocity. It has broken below that lower uptrend support line and went straight down close to the 100ema support which is also near a horizontal support of around 3229. As market pullback, take this opportunity to pick up the local banks! =) STI might stage some rebound in the coming week and start consolidating of a range between 3280-3360.
HSI 

As HSI came to our first support of 23647 then came another shockwave of fighting erupting over in Europe. This sent the HSI to a deep plunge as investors and traders panic and sold off their positions. A triple support can be seen of around  22767 area and if this holds, we might see the HSI starting a nice bounce to 23647 level. Looking for a bounce this week.
For more analysis on the US market and where it might head to, you can click HERE!
Have a good week ahead!
Yours
Humbly
Kelwin&Roy