7th February, 2022, 7:22 PM
One of the stronger blue chips beside the bank, Sembcorp Industries has seen over 20% rise just over a month! A fantastic run if you ask us especially in the Singapore market. Since 27th Dec, we have alerted our EXCLUSIVE CLIENTS when Sembcorp Industries broke above it downtrend line. From then on it started its upwards move and right now, we are seeing some resistance.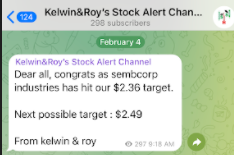 What should we do? The candlestick pattern looks like  a shooting star which we must take note of. The volume has increased but it couldn't move higher with a nice hollow candle finish.  A trader might consider taking some profits off the table as it has also touched our $2.49 resistance. There are a few ways to exit this trade and one of them would be when it closes below the 5ema. Another way is when it breaks the uptrend line we drew. One last thing, remember your time frame is also important. Whether you're an investor or trader.
In order to ride the this trend, a trade has to either trade in or out or purchase the share. To know how to swing such a trade at a fraction of a cost and free up your capital then do join us in our upcoming WEBINAR where we'll show you how to hold on to your winning trades in order to ride the trend!
Date: 17th feb
Time 8-9pm
Register HERE! 
To be a client to receive such awesome trade alerts CLICK HERE! 
Yours
Humbly
Kelwin & Roy