16th September, 2019, 5:47 PM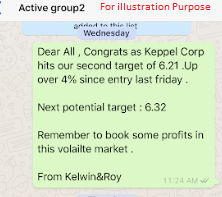 Chart Source : poemsview 16th Sept 2019
Keppel Corp gapped up this morning to an intra day high of $6.35 surpassing our third target of $6.32!
Keppel Corp surged up due to the attacks on the Saudi oil field which saw crude oil surging over 10%! We hope our readers didn't chase this breakout which might be a little on the high side for now.
We're glad that we alerted our EXCLUSIVE CLIENTS just about a week ago when Keppel Corp managed to break above its 20ema which was a rare occurrence  for the last two months. From then on, Keppel Corp started its gradual climb which saw a nice upside of 6% since our alert at $5.96! It might be good to take some profit off the table as it has moved up over 8 days so some profit taking shouldn't be too unreasonable.
Our next target might be around $6.48 after some profit taking which might make Keppel Corp more attractive again.
Want to know how to use the moving average to your advantage?
Want to learn how to use the moving average as a guide for your entry? Then the upcoming seminar on 23rd Sept is for you!
On 23rd Sept we'll be revealing to you one of our trade secret and how to use the moving average as a guide for your entry. In the next few post, we shall see how it has been useful for us to time an entry.
Date: 23rd Sept
Time : 7:30-9:30pm
Registration is a must and can be done via the link below
https://www.eventbrite.sg/e/continuation-of-trade-wars-how-to-use-cfd-moving-average-to-manage-current-volatile-market-tickets-72254205273
See you there
Yours
Humbly
Kelwin&Roy