21st July, 2021, 5:21 PM
Chart source: Poemsview 21st July 2021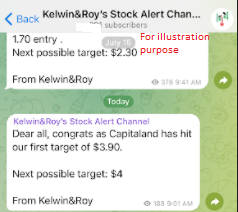 With news that we're back to phase 2 heighten alert and no dinning in, morale was low and sentiments negative but at least Capitaland gave us something to cheer about. In fact, it emerged the top performer for the STI
Analyst are upbeat and recognize that the restructuring plan is  'fair and reasonable'. Also, brokerage house has risen the target price to  $4.40 . This has caused Capitaland to moved up 5% since our alert to our EXCLUSIVE CLIENTS just LAST WEEK!. Thanks to these factors both our targets were met in a day. It is just 1 cent shy of its previous high of $4.01 and taking some profit here might be good if you are looking for a quick trade. For longer term holders, you might consider holding it.
If Capitaland breaks that $4.01 we might see the upside to around $4.11 first!  Capitaland has been good to us since March when we caught it before the MASSIVE GAP UP! We'll wait for the next retracement to establish another entry.
Want to know what stock we're looking at next?
Want to be alerted earlier and not miss out on our next trade alert? Be our EXCLUSIVE CLIENT  and find out how you can be included in our next alert. Or simply click the whatsapp logo at the bottom of the page to drop us a message.
Yours
Humbly
Kelwin&Roy