20th November, 2020, 7:10 AM
Image source: Sats.com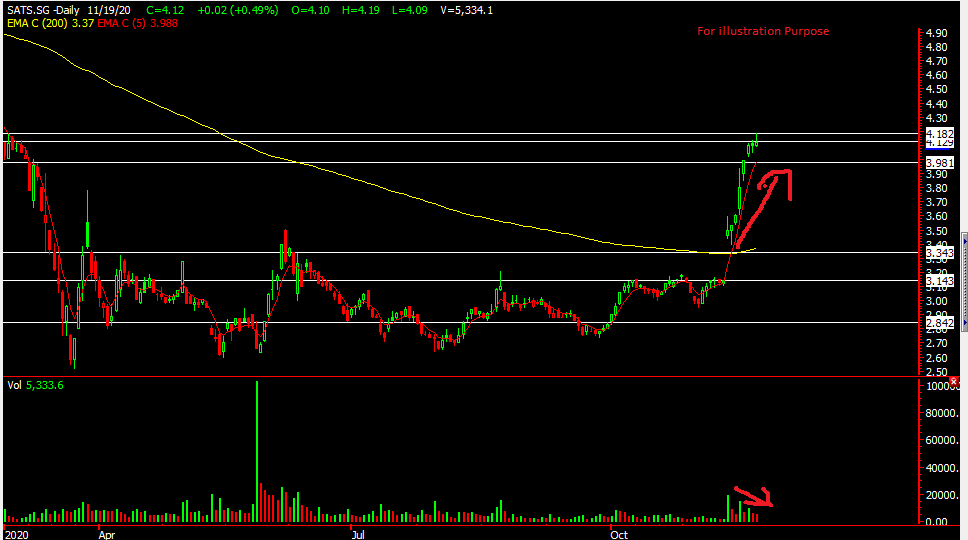 Chart Source: Poemsview 20th Nov 2020
With news of a potential vaccine coming out, transport, airline, hospitality all saw a nice recovery. Sats is one of them that benefited from this news. As Sats is part of the STI component stock, it has also pushed the STI up for the last few days.
Way back in Aug Sats was already mentioned here in our Blog and in late Oct we updated once more when  Sats was trading around $3.14. A month later and it's now trading at $4.14 a very nice upside of over 30% since oct.  Now with all the optimism in the air and with prices running up quite a bit, the question is is it time to rest?
To answer that, let's take a look at the charts. Firstly, we noticed that as the price increases, the volume actually starts decreasing, not the most positive sign for a strong uptrend. Also common indicators would show it being in the overbought region too. Lastly, it had an eight day move up ever since the gap up so some rest or pullback is not much to ask for. Current resistance is around $4.18 – $4.20 and some pullback to $4 which is around the 5ema or slightly lower would be healthy for SATS.
Keep a lookout!
Yours
Humbly
Kelwin&Roy