2nd June, 2020, 6:55 PM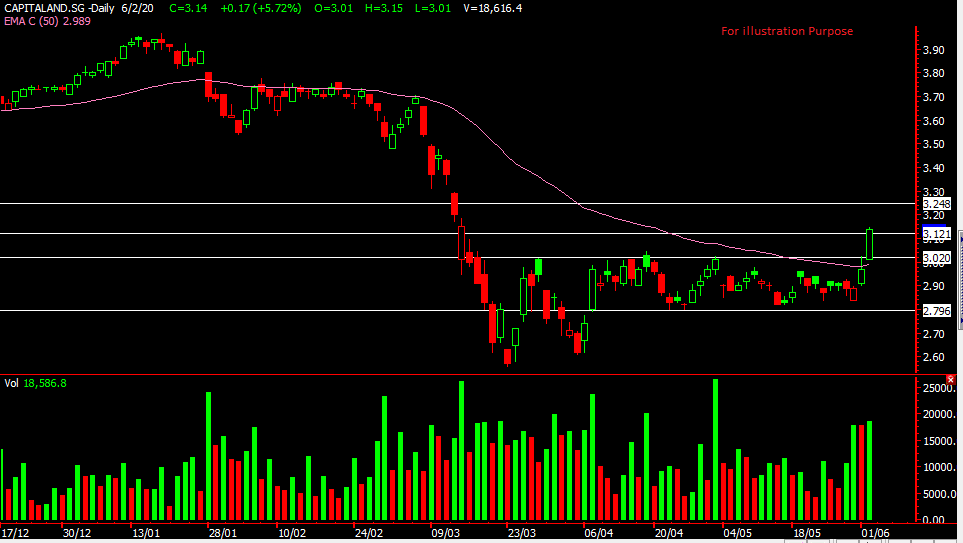 Chart Source: Poemsview 2nd June 2020
Capitaland came in the top 3 in terms of percentage gain.  It trailed slightly behind SATS and SIA which both also had a good showing and finished up 5.72%. Market was strong overall partly due to the end of circuit breaker and gradually opening up the economy.
From the chart we can see that Capitaland had about two months of consolidation and it finally broke out yesterday. We're glad we managed to catch this move up and ALERTED our clients of this trade analysis.
Capitaland broke above the 50ema and saw a nice run up to $3.15 closing at $3.14. Our first target of $3.12 was met, a nice upside of over 3% in a day. As the consolidation was for awhile, we're hoping for the next target to be met. Fingers cross.
Want to be part of this EXCLUSIVE GROUP that were alerted of such a trade analysis?
Wait no more! CONTACT US NOW to see how you can be part of this group to receive value added service sent straight to your handphone.
Yours
Humbly
Kelwin&Roy