5th June, 2019, 9:23 PM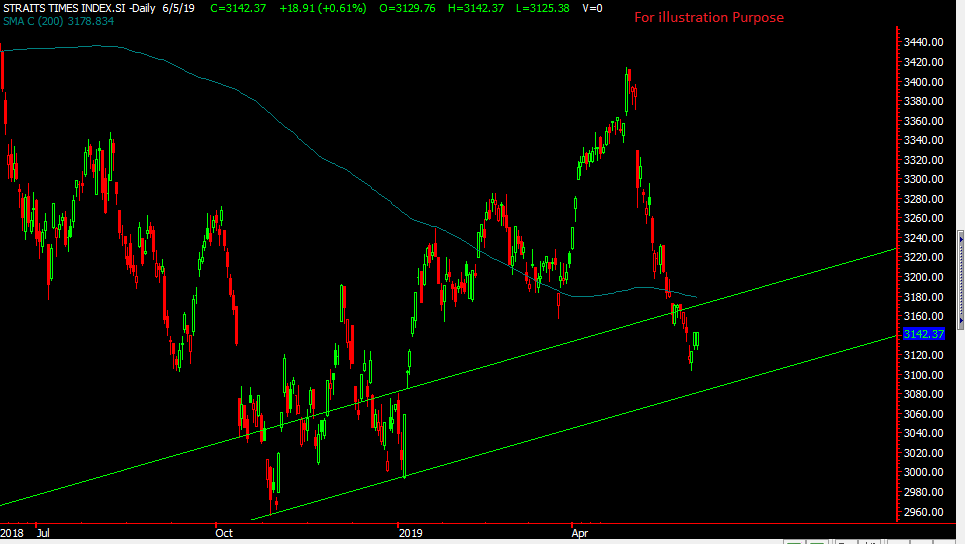 Chart Source: Poemsview 5th June 2019
Straits  Times Index had a terrible May and fulfilled the saying of Sell and Go Away in May. Our index has fallen 8.5% since the start of May but things might start looking up.
We have drawn two charts with the first stretching out from 10 years and drawing a long term uptrend line. So far that point hasn't been tested which is around 3080 area.
Something to take note is that the bounce from 2016 and the bounce off that long term uptrend line in 2018 seems shorter now. Every bounce is shorter which to us is not a good sign. What might happen is that is uptrend line might be tested and a rebound might happen but we'll be watching to see the strength of the rebound.
On a shorter time frame, the immediate support is around 3100 which is the short term uptrend line which we have drawn. We would like it to test that area and then rebound which would then complete this downward cycle and allow for a nicer rebound. With Dow having such a strong finish on tuesday night good chance we might see our Straits Times Index doing some catch up.
A good bounce to the 200ma might be the next resistance before we plan our next move. Should more good news follow like trade wars being resolved or more talks that could provide some underlying strength to the market. Or the recent rate cut which the fed seems to be signalling to the market. Most stocks have seen a brutal sell down and might be ready for a rebound.
So do be prepared as we markets remain volatile. So Sit Tight and tread carefully.
Do CONTACT US if you want to know more.
Yours
Humbly
Kelwin&Roy