20th February, 2019, 4:08 PM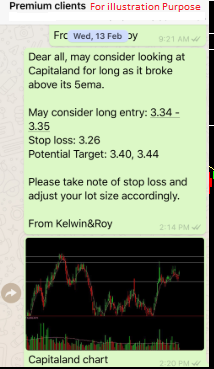 Chart Source: Poemsview 20th Feb 2019
Capitaland released their results this morning before market open. A set of stronger results resulted in a nice gap up for Capitaland which also meant that our second target was met!
Just a week ago before Capitaland showed some strength when it broke above its 5ema a short terming moving average.
With that strength came some volume which was higher than the previous and of course our EXCLUSIVE CLIENTS were alerted on it. An  entry at $3.34 saw a nice 3% upside in a week to $3.44. 
Capitaland currently at its horizontal resistance of $3.44 and a break above might see it move to the previous high of $3.46 which could be a strong resistance there.
It is important to have a sound and tradable plan especially trading near results.
CLICK HERE to see how you can learn how to plan a sound and actionable trade plan and to be part of this EXCLUSIVE COMMUNITY to enjoy such value added services.
Yours
Humbly
Kelwin&Roy