14th August, 2018, 10:49 PM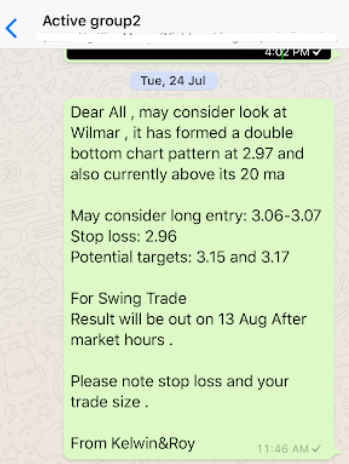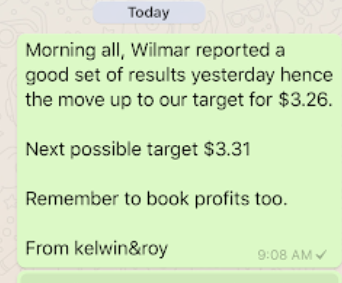 Chart Source: Poemsview 14th Aug 2018
Wilmar posted a surprising set of results yesterday after the bell. Wilmar's results can be viewed HERE.
The reuslts caused Wilmar to swing up hitting our targets and nearing our $3.31 target too.
Of course our EXCLUSIVE CLIENTS were alerted earlier of this analysis back in end July.
As of now $3.30-3.31 might be the resistance and Wilmar might take a breather before staging its next leg. From the chart, Wilmar usually consolidates before moving so we're looking for that.
Wilmar is also currently above its 200ma which is a positive sign in such a market. A break below that might negate our positive sentiments.
Want to be part of our EXCLUSIVE COMMUNITY and receive EARLY ALERTS of our stock analysis sent straight to your handphone?
Wait no more and ACT NOW to join our community.
Then be Kelwin & Roy's client to enjoy such value added services.
See you onboard!
Yours
Humbly
Kelwin&Roy