3rd March, 2022, 7:23 PM
Chart Source: AdvisorX 3rd march 2022
As the commodity boom continues, palm counters counters continue their rally. Due to the fighting in Ukraine, this has given the rally more legs as disruption, shortages and sanctions send prices rocketing. As prices move up and traders get excited, there is one thing to do before entering a trade.
Don't get carried away with soaring prices and chase without any trade plan. It is always very dangerous to just  enter a trade purely on momentum and without any proper entry and stop loss as profit taking could happen any time.
Remember to look out for potential support and resistance and not to enter at the resistance without realizing it. We have drawn some of the support and resistance for first resources but of course if you're like our clients who have been informed 2 weeks ago when First Resources was at $1.68 then this might be a place to take some profit.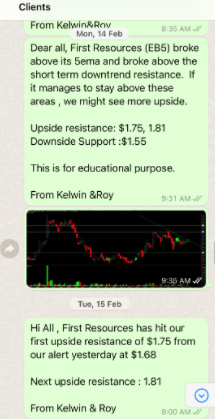 First Resources has hit multiple upside targets moving up 20% which is very good in our view. So taking some profit now would probably be a wise thing. As the commodities continue to move up in the long run, remember to define your time horizonal.
Want to be alerted earlier before the breakout?
Want to know what stock we're looking at next?
Be our EXCLUSIVE CLIENT and be alerted earlier to not miss out!
Yours
Humbly
Kelwin&Roy