2nd November, 2021, 8:19 PM
Frencken – [ It Has Started Moving, Who's Next? ]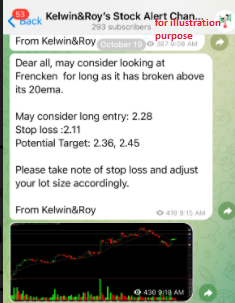 It was a rather quiet day in our markets as only a few certain stocks led the charge up! Although our STI was up, it was mainly driven by JHM, Wilmar and UOB!
As mentioned  in our week ahead post, we were looking at E stocks to start moving and true enough it came through. The first move came when Frencken started moving and it was a rather fast move up as it had been consolidating for over a week and finally a good move came in. Our client were alerted well before the breakout as it came fast and furious. Volume has increased and we might see it move up to that lower uptrend channel. Once there, we might see profit taking coming in as the resistance there could be strong.
AEM has been creeping up slowly over the past week which has been hitting our targets , so our next target might be UMS or even grand venture. These two counters hasn't move much so its on our radar now. But do take note of their results which might be around the corner.
Want to be notified of such trade alerts? Don't want to miss out on the next potential run?
Then JOIN our growing community and see how you can receive such trade alert sent to your phone.
Yours
Humbly
Kelwin&Roy