14th October, 2020, 6:50 AM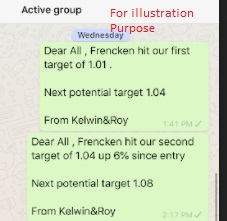 Chart Source: Poemsview 14th oct 2020
Frencken has seen a nice upside in the recent week after it broke above its 20ema. We're glad we managed to alert our EXCLUSIVE CLIENTS when it was trading at $0.98. It moved up after but didn't move  as much as expected but as we waited our patience paid off.  A nice 10% upside in two weeks is good to us as we continue to value add to our clients.
So what's next for frencken? Will it be able to hit $1.10? Using technical analysis $1.10 is within grasp but we would prefer to take some profits off the table as some pullback and consolidation might be possible before it gathers strength to test $1.10 and maybe even $1.14!
Want to cut through the noise and get such trade alerts straight to your handphone?
Then be our EXCLUSIVE CLIENT and find out how much value is waiting for you!
See you onboard soon!
Yours
Humbly
Kelwin&Roy