25th November, 2020, 7:31 AM
Chart Source: Poemsview 25th Nov 2020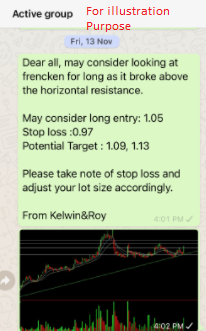 Frencken started its engine late evening yesterday when volume started piling in. We saw some positive price action in Frencken a week back and alerted our EXCLUSIVE CLIENTS then.
We can see from the chart that volume has increased and how it managed to stay above the $1.09 resistance too. The uptrend line is currently supporting Frencken too. These are positive signs for us and if this continues we might see it eventually move up to $1.19.
Other electronics stocks are starting to move too, with Hi-p taking the lead this round.
Want to cut through the noise and get such trade alerts straight to your handphone?
Then be our EXCLUSIVE CLIENT and find out how much value is waiting for you!
See you onboard soon!
Yours
Humbly
Kelwin&Roy