5th August, 2021, 3:09 PM
Chart Source: AdvisorXs 5th Aug2021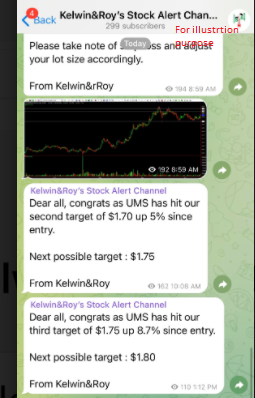 Another leg up for UMS as it burst out from the $1.70 resistance. From our previous post, we mentioned that $1.70 was the resistance and a break of that might see $1.75 which we witnessed today. A good start to the day we say!
$1.75 does look like a stronger resistance but with the increase renew interested and volume, we might see $1.80 in the coming days. It is at its all time high so we're looking at an ugly candle or reversal candle to indicate weakness. Its also wise to take profit along the way now.
If you would like to know how to receive such trade alerts sent to your handphone, just drop us a message and we'll walk you through it
Want to be alerted earlier before the breakout?
Want to know what stock we're looking at next?
Be our EXCLUSIVE CLIENT and be alerted earlier to not miss out!
Yours
Humbly
Kelwin&Roy