15th April, 2021, 7:16 AM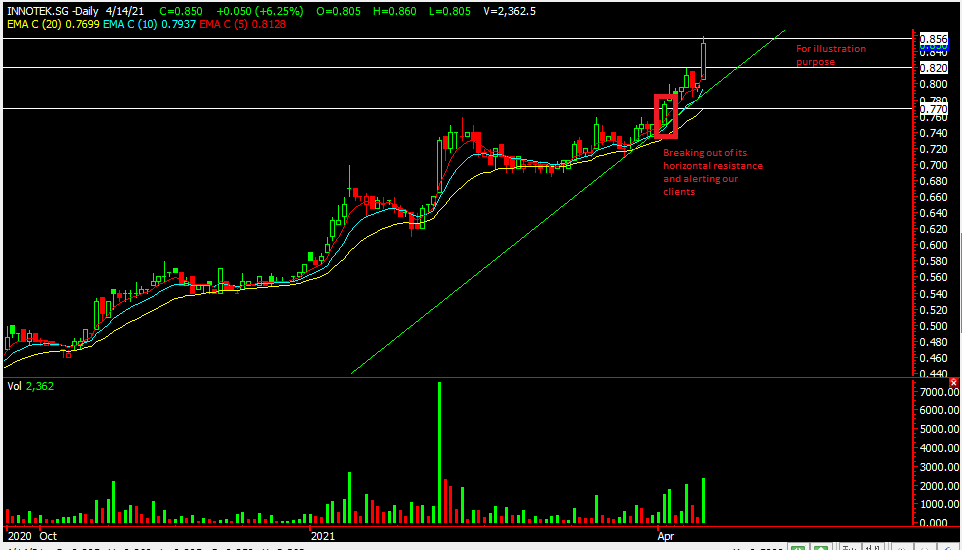 Chart source:Poemsview 15th April 2021
Innotek is a precision metal components manufacturer serving the consumer electronics, office automation and mobility device industries. MSF's three business units – Precision metal stamping, Tools and Die design and fabrications, Integrated Processes and Assembly – have a strong and diversified base of Japanese and European end-customers.
It has been on a steady climb since the start of the year and started its long sideways consolidation from around February till April. Just over a week back ,when Innotek finally broke its horizontal resistance of $0.77 that caught our attention as that might be a continuation of the uptrend. Volume also started to come which helped to sustain the price movement all the way till our third target of $0.855! 🚀🚀. For now, would it be too late to enter? If we look at the history of Innotek, after a one-two bar of moving up then there might be a retracement. So if you haven't enter yet perhaps waiting for a retracement might be a safer option. We're glad our EXCLUSIVE CLIENTS were alerted back when Innotek was trading at $0.77. A nice 10% upside so far.
Our next possible targets are $0.90 then $0.925.
Want to be our EXCLUSIVE CLIENT to receive such trade analysis when we spot a good set up?
Don't miss out on our next alert! Be a client and find out how to be included in our whatsapp broadcast list.
Yours
Humbly
Kelwin&Roy