3rd June, 2021, 7:12 PM
Chart Source: Poemsview 3rd June 2021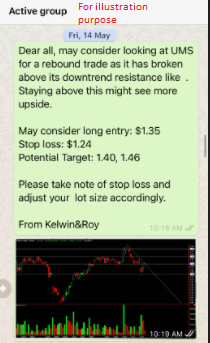 UMS came to life today with a slight gap up on announcement of its closure of it acquisition of JEP. Despite the weak sentiment on electronic stocks like frencken, AEM, we saw UMS pushing ahead. As we can see volume  is starting to increase again after resting for a few days. What is interesting is that it was down yesterday and if traders who shorted it they might have to start covering if it breaks above the $1.46 resistance. A break above this could bring in more traders on the long side. This might help pull UMS up to the all time high of $1.49 then even beyond. We're looking at around $1.52-1.53 area first.
So far UMS has been good to us and on many occasions hitting multiple targets. Check these out for past movement of UMS.  Our most recent alert being on 14th May when it was just trading at $1.35. A nice 8% upside so far.
It is currently on its uptrend and we're using the 5ema as a guide and support. A break below might bring it towards that uptrend support line.
Don't want to miss out on our next trade alert? Be our EXCLUSIVE CLIENT  and find out how you can be included in our next alert.
Yours
Humbly
Kelwin&Roy