1st June, 2021, 7:00 AM
Chart Source: Poemsview 1st June 2021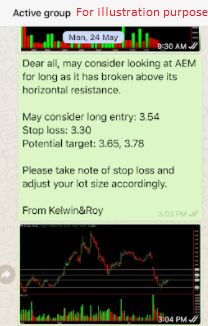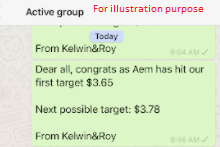 Electronic stocks were having a move last week and having caught UMS and Aztech on the earlier run it was time for AEM to shine. Having been the leader for awhile it fell sharply over the last few months as valuation started to get high. As it started to retrace we took the chance to alert our EXCLUSIVE CLIENTS on a potential rebound.
Being the laggard this round, we thought it was time for AEM to have some rebound as it was much loved by the market previously. When it finally broke above it resistance just a week ago and with volume starting to come in, that gave us more confidence in our analysis. We're glad our first target was hit and an increased in volume, we might be able to see it move towards the 50ema resistance. Fingers crossed!
Don't want to miss out on our next trade alert? Be our EXCLUSIVE CLIENT  and find out how you can be included in our next alert.
Yours
Humbly
Kelwin&Roy