10th August, 2021, 5:22 PM
Chart source: AdvisorXs 10th Aug2021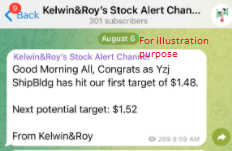 Yzj ShipBldg has finally made a move after a long consolidation of around 2 months. It has made a clean breakout of the $1.45 horizontal resistance with a strong gap up last Friday with an increased in volume. As a trader, with the gap up we might find it hard to chase as our stop loss would be higher, the risk reward for the trade is also not as good hence an earlier entry might be one of the solution.
A pre-break of the horizontal line of $1.42 was actually a que to us as we saw some volume coming in and we decided to alert our EXCLUSIVE CLIENTS on Telegram about it! With an entry at $1.43 we saw a nice 6% upside in just 2 trading days!
So where to take profit? The $1.52-1.54 is quite an obvious resistance so taking some profit around this area is something a trader might consider. Or wait for a break of this $1.54 which might lead to a higher price of $1.59 or a fake breakout, consolidate and move higher in the next few weeks.
So these are some of our game plan and we're watching to see how it pans out.
If you would like to know how to receive such trade alerts sent to your handphone, just drop us a message and we'll walk you through it
Want to be alerted earlier before the breakout?
Want to know what stock we're looking at next?
Be our EXCLUSIVE CLIENT and be alerted earlier to not miss out!
Yours
Humbly
Kelwin&Roy