3rd October, 2021, 10:39 PM
We will be doing new series called The Week Ahead where we'll share a weekly update on S&P500, Nasdaq , Hang Seng Index (Hongkong) and Straits Times Index ( Singapore) on our facebook and blog. We'll recap what has happened to the markets , key events to look for during the week and  finally  some technical points to look out for in the coming weeks
Recap for STI & HSI 
For our local market, our sentiments continue to remain weak as it is affected by regional markets like HSI and of course USA. With inflation fears and rising 10 years treasury rates, this has continue to affect the sentiments over here. In addition, covid cases are rising in Singapore which adds another damper to our trading climate.
As for the HSI,  worries about the fallout of  Evergrande continues to spook the market affecting Furthermore regulatory concerns over the big tech players like Alibaba, Tencent and Meituan continues to weigh on the markets. But there has been surprising strength in the underlying market as every time when HSI opens lower it manages to have a good closing. Selling pressure seems to be meeting with more buying.
Key Events to Watch For 
A good news that came out where Merck said its new Covid pill reduces the risk of hospitalization, death by half for some patients. This could help lift sentiments especially for recovery stocks like SATS and SIA. Market will still be looking at the 10 year treasury yield for signs of inflation and interest rates.
Technical Levels to Watch For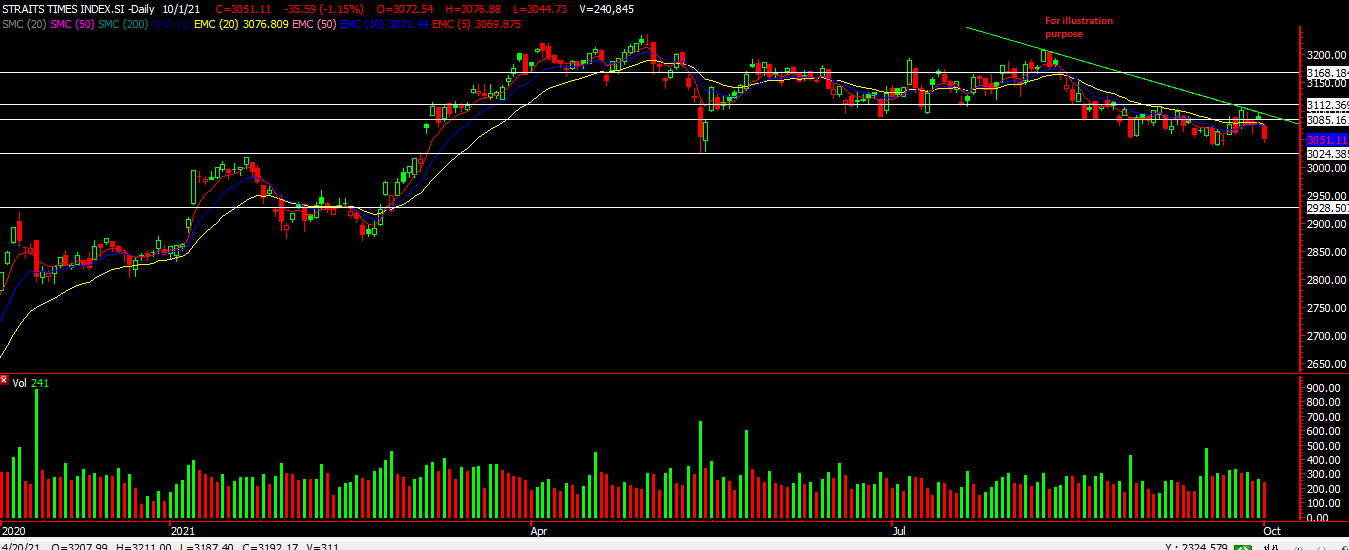 Image source: AdvisorXs
For STI, it is still a range bound of around 3024 as the support (lower range) and 3112 resistance (upper range) . It is below the 20 and 50ema and the 20ema is below the 50ema which is a bearish sign. So STI has to hold the support of 3024 if not we might see a further downside to even 2928. There is also a short term downtrend line for it to overcome if we want to see any upside movement. A clearer sign would be for STI to break above 3112.
For HSI, technically still weak as it is below its 20 and 50ema. support at around 23672 and if that can't hold then we might see it move lower to 23163 or even 22382. Interestingly HSI has been holding up well despite the pullback that is happening over in the USA and evergrande's bearish sentiments. If the index manages to hold and break above the 25k resistance, we might see some rebound in the coming week which could take it up to around 25757.
To know more about the outlook for S&P and Nasdaq, just CLICK HERE! 
Have a good week ahead! Drop us a message if you want to discuss further!
Yours
Humbly
Kelwin&Roy