15th April, 2020, 6:38 PM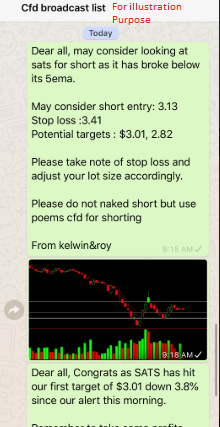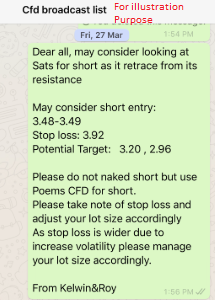 Chart Source: Poemsview 15th April 2020
SATS is the leading provider of gateway services and food solutions in the region. It is a familiar sight to many Singaporeans as they depart from Changi Airport. SATS is also part of the STI component stock.
Given the drop in tourism, SATS would be adversely affected due to the decrease in flights . Our airports are almost empty with SIA cutting 97% of their capacity. SATS would be hit badly and if you would want to ride the downside then shorting using CFD would be a way to do so.
Our CFD clients were alerted of such an opportunity once in end march at $3.48 and another time today( 15th April). As SATS tried to rebound for the last week, its rebound might come to an end and resume its downwards trend for now. SATS hit our first target of $3.01 and from our analysis we are setting our next possible target at $2.82.
Want to be part of this EXCLUSIVE GROUP that were alerted of such a trade analysis?
Wait no more! CONTACT US NOW to see how you can be part of this group to receive value added service sent straight to your handphone.
Yours
Humbly
Kelwin&Roy