12th July, 2018, 8:25 AM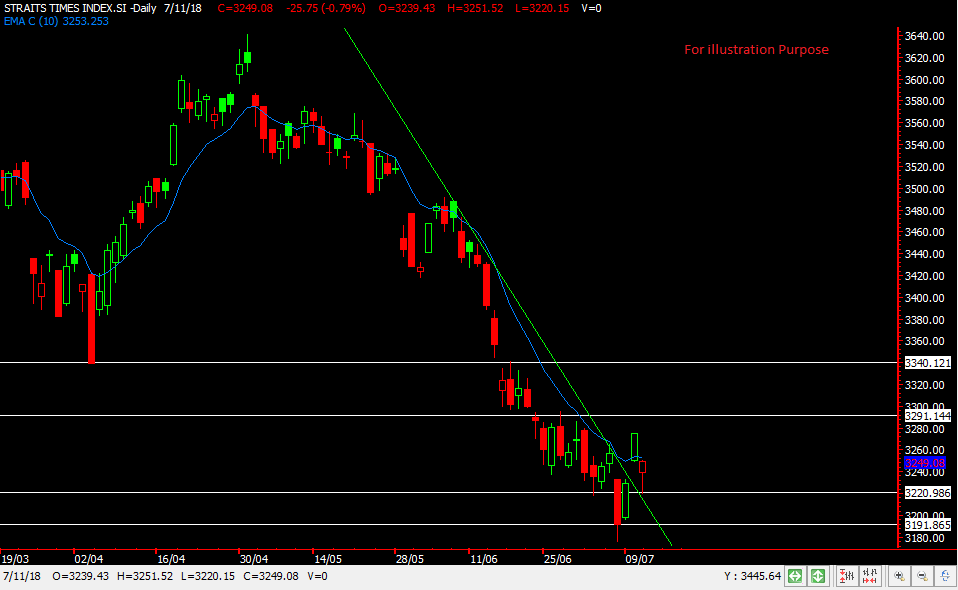 Chart Source : Poemsview 12th July 2018
Straits Times Index opened much lower on Wednesday after Trump announced another round of tariffs in the morning.
At one point of time our Straits Times Index was down over 50 points scaring most traders and investors. This was perfectly normal as the announcement was made early in the morning and traders started to dump their shares.
There were a few interesting things that stood out for us.
STI fell and hit our downtrend line support which we drew on Monday
STI fell and hit our horizontal support which we also drew on Monday
STI closing is very close to the 10EMA
Our game plan now.
Watching the 10 EMA closely to see if STI is able to close above it again.
Watching the support around 3220 region to see if that can hold
Don't be too anxious to make a move. Watch for more stability before making a move.
Want to know more how you can long or short the Straits Times Index with ease?
We'll be holding a workshop on CFD : (All and Why you need to know about it.) on 18th July.
Do Register for it as we'll also go through how to use CFD for SHORTING. A Very crucial tool a trader needs to have in this day and age of trading.
https://www.eventbrite.sg/e/cfd-all-and-why-you-need-to-know-about-it-tickets-47616183286
Yours
Humbly
Kelwin&Roy