22nd July, 2020, 7:35 AM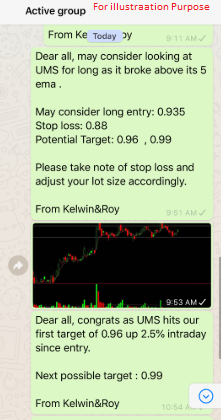 Chart Source : poemsview 22nd July 2020
UMS another mid-cap electronic stock that saw a nice move up but of course the day belong to AEM yesterday.
Will UMS be able to breakout from its consolidation range?  Let's take a closer look at it from a technical perspective.  The 98 cents is a strong resistance that is  pinning it down for the  last two months.
The first sign of strength was yesterday when it crossed the 5ema and volume also came in during the day. It was then we also alerted our clients on UMS as we saw momentum coming in. It carried on from $0.935 to close at the day high at $0.975 helping us to achieve our first target. If UMS finally manages to pierce through that 98 cents and close above we might finally see it challenge the $1.02 then $1.05.
Be alert! If momentum continues for the electronic stocks we might see UMS move more to the upside.
Want to be part of this EXCLUSIVE GROUP that were alerted of such a trade analysis?
Wait no more! CONTACT US NOW to see how you can be part of this group to receive value added service sent straight to your handphone.
Yours
Humbly
Kelwin&Roy