23rd July, 2020, 7:18 PM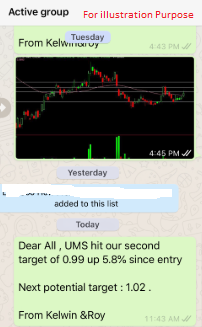 Chart Source : Poemsview 23rd July 2020
UMS broke out of that 98 cents resistance which we drew in our previous post. Volume for today is one of the highest for the couple of months so with that, hopefully we will see our third target of $1.02 being hit. It's just 1 cent away now. So fingers crossed that it'll hit tomorrow.
And as usual, we advocate slow and steady, so do remember to take some profits as we aim for UMS to hit $1.08 in the coming days. UMS has seen a nice run up since our alert at 93 cents so taking some profit off the table is something we advocate too. No one can sell at the highest and it's always on hindsight that we know where is the highest or lowest.
Want to receive such alerts sent straight to your handphone?
BE OUR EXCLUSIVE CLIENT and find out how you can enjoy such value added service.
Yours
Humbly
Kelwin&Roy