5th August, 2020, 7:05 PM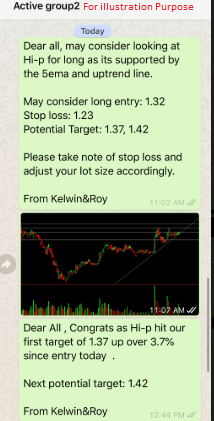 Chart Source: Poemsview 5th Aug 2020
Hi-P finally moved today after a week's consolidation. It was slightly lagging behind some of the Electronic play like UMS and AEM and when the time came we finally rotated to it.
From a technical analysis point of view,  we saw it being well supported by the 5ema and the uptrend line A nice consolidation was taking place too. It was holding well at support and hence we alerted our EXCLUSIVE CLIENTS on this analysis.
We're glad Hi-P hit our first target of $1.37 up over 3.7%  intraday and even continued up to $1.40. It closed right at our resistance point and now if Hi-P can close above this we might see our next upside target of $1.42 in the next few days.
Want to be part of this EXCLUSIVE GROUP that were alerted of such a trade analysis?
Wait no more! CONTACT US NOW to see how you can be part of this group to receive value added service sent straight to your handphone.
Yours
Humbly
Kelwin&Roy