14th November, 2019, 8:29 PM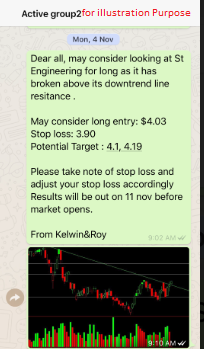 Chart Source: Poemsview 14th Nov 2019
In our previous post on ST Engineering it has hit our target which was the downtrend resistance line of  $4.05 before retracing. It was posted on our trading blog for all to learn and no hindsight.
Once again, as ST Engineering attacked the downtrend and broke it with volume that's when we alerted our EXCLUSIVE CLIENTS on this breakout for them to plan, prepare and proceed.
With that increase in volume, ST Engineering managed to sustain its movement up hitting our second target of $4.19 and upwards 4% since entry of $4.03.
ST Engineering's volume remains healthy and we're hoping that it'll hit our third target of $4.29 in the coming days. Its Friday tomorrow so it might be  on a slow down. We're using the 5ema as the support.
Want to be part of this EXCLUSIVE GROUP that were alerted of such a trade analysis?
Wait no more! CONTACT US NOW to see how you can be part of this group to receive value added service sent straight to your handphone.
Yours
Humbly
Kelwin&Roy