10th August, 2021, 7:30 PM
Chart Source: AdvisorXs 10th Aug 2021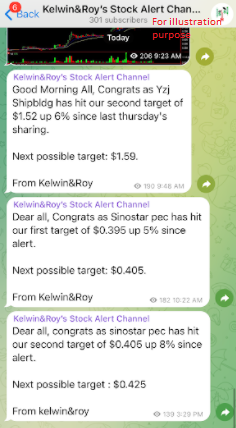 Sinostar Pec is one of the largest producers and suppliers of downstream petrochemical products within 400km radius of is production facilities within the Dongming Petrochem Industrial Zone in Dongming County of Shandong Province, PRC.
It had some movement just over a week ago when we first spotted it and finally it started to show its true colours today!
A nice consolidation for the past few weeks led to a nice breakout with volume which resulted in a 8% upswing from our entry! With such a move , a new uptrend might be forming and 0.425 target is within sight now. With an increased in volume we might even see $0.45. Watch out for the break and momentum!
If you would like to know how to receive such trade alerts sent to your handphone, just drop us a message and we'll walk you through it
Want to be alerted earlier before the breakout?
Want to know what stock we're looking at next?
Be our EXCLUSIVE CLIENT and be alerted earlier to not miss out!
Yours
Humbly
Kelwin&Roy