23rd August, 2021, 7:49 PM
Chart Source: AdvisorXs 23rd aug 2021
Nanofilm fell over 40% over the last week due to its bad results and the leaving of its CEO and COO. This has caused quite a big stir in the company and the share price took a plunge. Analyst has been downgrading Nanofilm and investors are fleeing. But for us, we saw this as an opportunity. Nanofilm has been good to us over the last few months and we were waiting patiently for a good set up. We finally saw it last Wednesday as a nice base was being built around the $3.80 area and the company started its share buyback. We informed our clients from the message below as we found some it time to bargain hunt.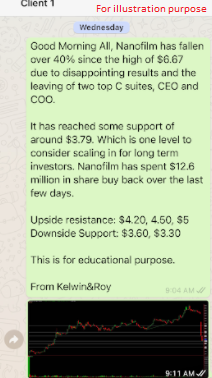 Nanofilm staged a come back over the last two days as it hang on to the support. The upwards swing in price caused some short covering as traders who shorted probably covered and took some profits. It has hit our first upside resistance target of 10%  and taking some profits might be wise. There is still some volatility around so taking it step by step.
We have drawn our next few upside target on the chart and remembering to take profit along the way. When the next downside comes then it'll be another opportunity to go in.
Want to be alerted of such potential entry?
Be our EXCLUSIVE CLIENT and find out how to be included in our growing community.
Yours
Humbly
Kelwin&Roy