11th January, 2021, 6:47 PM
Chart Source: Poemsview 11th Jan 2021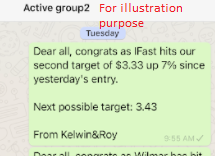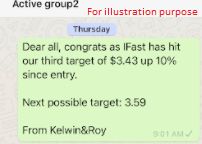 IFast's share price has been on a road to recovery even though it didn't managed to win the digital banking license. The massive selloff was unjustified as we mentioned in our previous blog post. Ever since then, IFast started to make a recovery and amazingly it recovered back close to its 4th Dec price just before the announcement was made.
We're glad we follow through this stock and informed clients of our new targets  along the way as you can see from the messages. IFast has risen 25% since our initial alert but is this the end of the road for IFast? Well, we received a research report from Jefferies which could be one of the reason for the fierce upside today.
Research report by jefferies. Report is not a buy or sell call.
Is the rebound over? We feel that a short break might be good as traders/investors who got in at the high previously might be wanting to sell out after a rollercoaster ride which could provide some resistance. Pullbacks to support might be a good re-entry if you missed the boat. The increased in volume today signed confidence for us and in the longer term we're looking at IFast to move past the all time high. Fingers crossed!
Want to cut through the noise and get such trade alerts sent straight to your handphone? In addition, have such a detailed follow up?
Then be our EXCLUSIVE CLIENT and find out how much value is waiting for you!
See you onboard soon!
Yours
Humbly
Kelwin&Roy