4th January, 2021, 10:10 PM
Chart Source: Poemsview 4th Jan 2021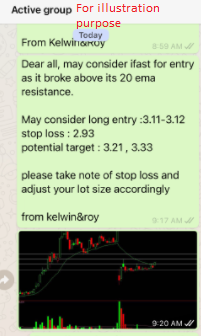 What a good start to the year as IFast which we were eyeing in Dec after the brutal sell down made a nice move up today. You can read more about our thoughts on IFast over HERE.  We have not given up on this counter even though it didn't win the digital banking license as that was just one upside component for this counter.  It had consolidated for the last three weeks or so and finally today when it crossed the 20ema that was when we alerted our EXCLUSIVE CLIENTS.
After crossing  the 20ema of around $3.10 it didn't look back and charged forward towards our targets. A nice upside of over 4.5% was seen intraday hitting our initial target of $3.21. From the technical perspective, our next potential target is $3.33. Also if you have read our previous post on IFast there was some potential entry point back when it was trading at $2.90 for a longer term view.
Want to cut through the noise and get such trade alerts straight to your handphone?
Then be our EXCLUSIVE CLIENT and find out how much value is waiting for you!
See you onboard soon!
Yours
Humbly
Kelwin&Roy