10th October, 2021, 10:26 PM
Image source: Shutterstock.com
We hope you are well rested and ready for the week ahead.  As we ahead into another week lets do a recap and see what next week might bring.
Recap for STI & HSI 
For our local market, STI fought hard despite a few negative session over in the US. Energy,Oil, hospitality and covid related counters took center stage last week. Counters like Golden Energy, First Resource, Wilmar, Sats, Q&M Dental, Raffles Medical saw upside last week.
As for the HSI,  it was trying to find its footing as tech stocks saw some recovery as market is starting to absorb the bad news of  Evergrande and tech regulations.
Key Events to Watch For 
Over the weekend, our government gave more clarity in our battle with Covid , highlighting simplified healthcare protocols and the need for our mental attitude towards Covid. We're slowly moving forward and becoming a Nation living with Covid. Recovery plays liek SATS, hospitality reits might continue to be in play. Energy and oil counters are also currently in play too.
Some events to watch out for overseas
1. Some of the World's biggest banks will also kick off their Quarter 3 earnings season with Banks such as JPMorgan Chase, Bank of America, Morgan Stanley and Goldman Sachs reporting their earnings this week.
2. The key U.S. economic report to watch this week is Wednesday's data on consumer price inflation for September.
3. The Fed is to publish its September meeting 
minutes
 on Wednesday amid expectations that it will begin tapering asset purchases before the end of this year, an important first step towards eventual rate hikes.
4. Annual meetings of the World Bank and the IMF get underway Monday, where officials will discuss the global economy, the ongoing COVID-19 pandemic and global taxation issues.
Technical Levels to Watch For
image source: AdvisorXS 10th Oct 2021
For STI, the support of 3024 held and we saw it break our short term downtrend line but resisted by the horizontal resistance previously mentioned at 3112. This week would be interesting as we watch and see if this resistance would break. If this breaks we might we a nice rebound for the week, our upside resistance is around 3160.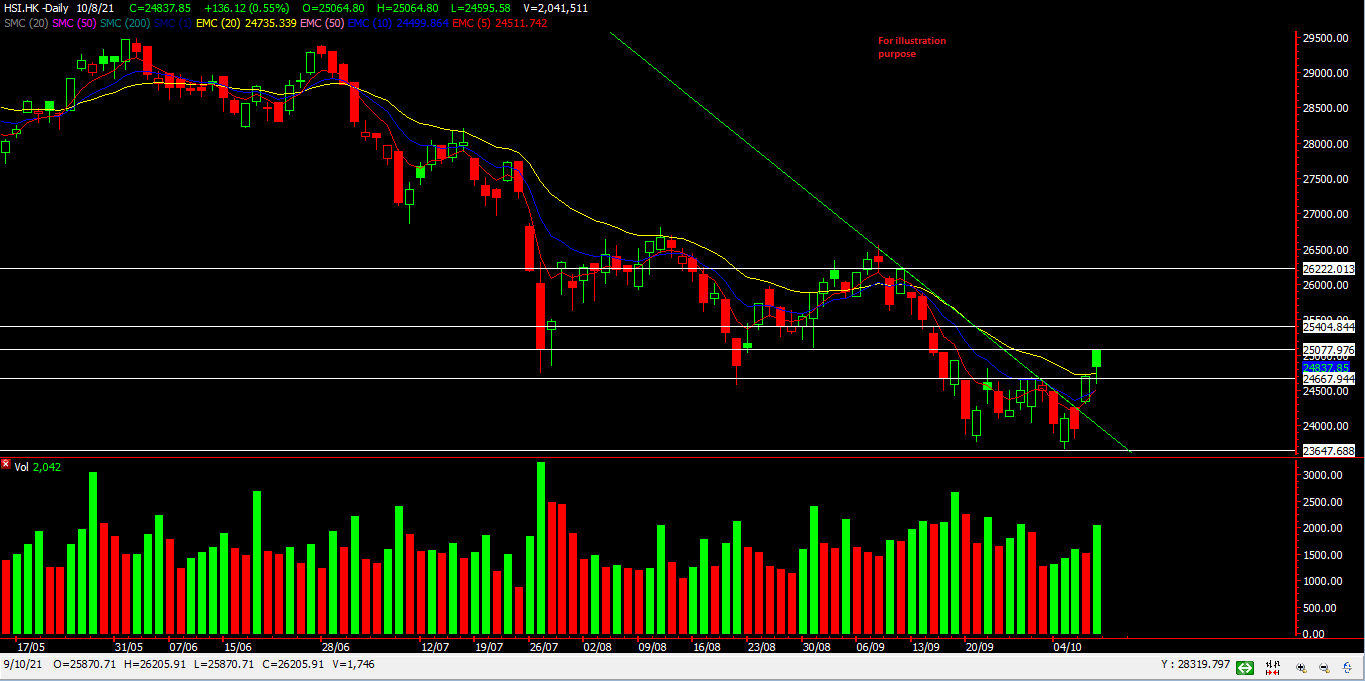 For HSI ,it has also broken the short term downtrend as the buying overcame the selling despite negative news which is a positive sign to us once again. It has reached some resistance around 25k and a clear break with a bullish bar might see more upside to around 26k with short term resistance in its path. Inflation fears, bad results earnings from US side might have negative sentiments so do watch out for it.
To know more about the outlook for S&P and Nasdaq, just CLICK HERE!
Have a good week ahead! Drop us a message if you want to discuss further!
Yours
Humbly
Kelwin&Roy