1st November, 2018, 7:44 AM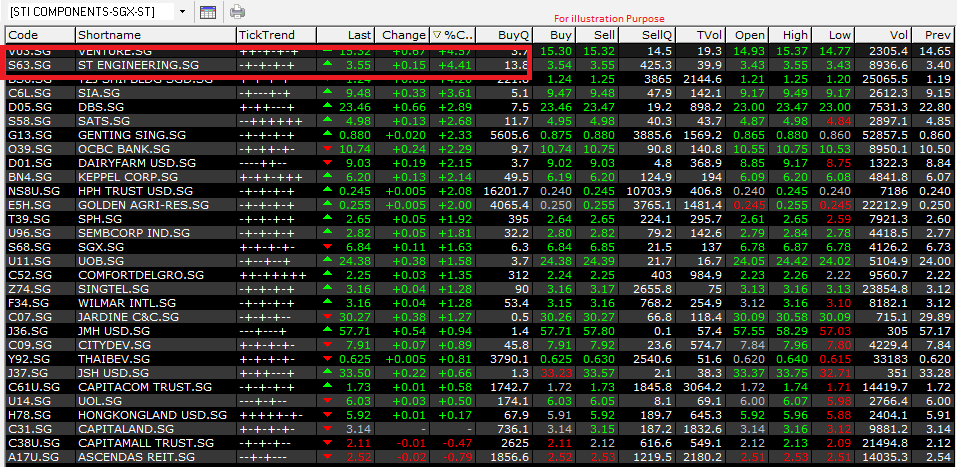 Chart Source: Poemsview: 1st Nov 2018
St Engineering had a powerful rebound yesterday and was the second top gainer within the STI component. We're glad that our EXCLUSIVE CLIENTS were informed of this trade analysis and managed to capture a 2.5% upside swing. An entry at $3.46 saw ST Engineering moving up to $3.55 through the day which came on the back of some good news too.
A nice overall bounce for the general market which lifted the STI up 52 points which we were anticipating from our previous post.
While everyone was in panic mode it was probably a good time to do some bargain hunting as most stocks were heavily. But this might not be the time to be heavily invested rather for us we prefer to be trading a little more. Making use of the rebound to do some scalping.
St Engineering was one such stock as we got our shopping list ready.
Its currently resisted at $3.55 and if it manages to stay above that  then we might see $3.60 as our next target.
What's on our shopping list? Have you gotten ready your shopping list?
Still clueless on the market direction? Not sure of which stock to look out for during a rebound?
Want to be part of this EXCLUSIVE COMMUNITY  to help guide and prepare for market.
Don't wait and CLICK HERE to see how you can join this community and all the exciting perks of being a Client of Kelwin&Roy
Yours
Humbly
Kelwin&Roy