18th September, 2019, 12:32 PM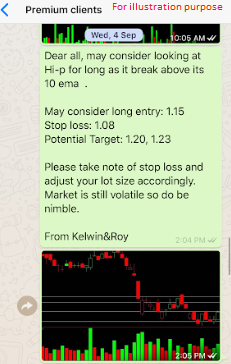 Chart Source: Poemsview 18th Sept 2019
Hi-P has been consolidating for awhile at the base of around $1.10 and it slowly moved up to break its 10ema. After spotting that ,we decided to inform our EXCLUSIVE CLIENTS of the move for them to plan, prepare and proceed.
As the 10ema has been resisting it and finally a break above it, it signaled a good turn for us and hence our decision. Volume also started to come on that day.
Hi-P took about 5 days to reach our second target of $1.23 which saw a nice 7% upside since our entry of $1.15. If one were to do contra trading he or she might miss out on the second target that is why using CFD might help to overcome this problem.
Currently has Hi-P faces resistance at the 50ema and also the downtrend line we might consider taking profits as Fed decision looms too. Might look for a re-entry after that! Stay tune.
On 23rd Sept we'll be revealing to you one of our trade secret on using the moving average and how to use CFD to swing your trades and avoid overtrading .
Date: 23rd Sept
Time : 7:30-9:30pm
Registration is a must and can be done via the link below
https://www.eventbrite.sg/e/continuation-of-trade-wars-how-to-use-cfd-moving-average-to-manage-current-volatile-market-tickets-72254205273
See you there
Yours
Humbly
Kelwin&Roy