22nd May, 2018, 5:51 PM
Chart Source : Poemsview 22nd May 2018
UMS taken another beating today and closed at day low of $0.90. The volume continued to swell up as traders continue to hammer UMS and retailers sold in panic too.
We hope you are on the right side of the fence as we WARNED that UMS could suffer a breakdown back in END APRIL.
A Good 13% Downside has been achieved so far.
It's important to have a proper trade and guidance as the market these days can turn in a blink of an eye.
We are revealing our simple steps to approach the market with no system required and just using simple Technical Analysis.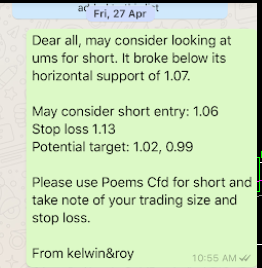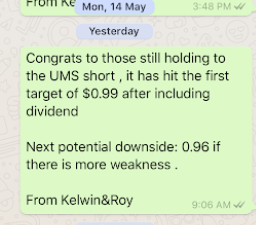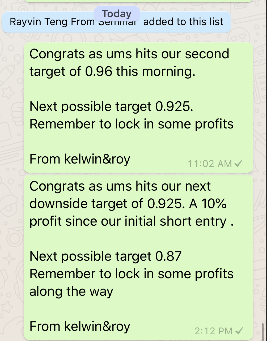 With the proper guidance and strategy, we believe one can finally trade with a peace of mind knowing their stops and targets are all in place.
Which stock will be NEXT?
WANT SIMPLE YET EFFECTIVE TRADING ANALYSIS LIKE UMS SENT TO YOUR HANDPHONE?
WANT TO BE PROPERLY GUIDED THROUGH A TRADE?
Then Simply CLICK HERE and start benefiting from their value added services.
We got Team Of TOP TIER REIMISIER WAITING FOR YOU.
Yours
Humbly
Kelwin&Roy