8th April, 2019, 8:04 AM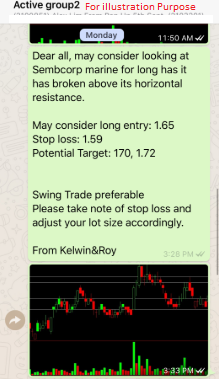 Chart Source: Poemsview 8th April 2019
Sembcorp Marine came back to life last friday with an increased in volume which is the highest for the last two weeks . With that increase in volume it has managed to breakout of the downtrend line drawn back in Oct 2018.
This is one bullish sign to us and staying above this downtrend might see it move higher to $1.72 then $1.77. Recently Oil has also seen a positive upswing with oil cut in talks. BUT, was there any earlier signs of this breakout??
Our EXCLUSIVE CLIENTS were alerted earlier just a week back when we first spotted Sembcorp Marine managing to break its horizontal resistance of $1.64. Sembcorp Marine was also near the uptrend support so it gave a trader a good risk reward ratio.  With the volume surge last friday, Sembcorp Marine hit our first target of $1.70.
Want such Alerts sent straight to your handphone?
CLICK HERE to see how you can learn how to plan a sound and actionable trade plan and to be part of this EXCLUSIVE COMMUNITY to enjoy such value added services.
Yours
Humbly
Kelwin&Roy