20th April, 2021, 7:30 AM
Chart Source: Poemsview 20th April 2021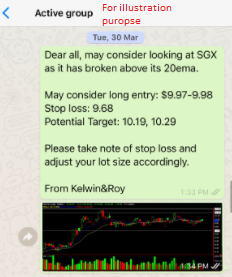 SGX also had a good move yesterday as it broke out once again after it broke the previous high of $10.29.
SGX has also updated last week that the total securities market turnover value on SGX increased 50% month-on-month in March to $38.7 billion, the highest since march 2020. Its derivatives franchise performed strongly q-o-q on the back of broad base volume gains in March across multiple asset classes. Total derivatives traded volume on SGX rose 31% m-o-m in March to 23.2 million contracts, the highest since July 2020. You can read more over HERE.
With that update SGX started to crank up its engine after having consolidated for about 3 months! The breakout that came was strong and sustained as the longer the consolidation or stored energy as some might refer it as the greater the move. Volume also started to build up and that led to SGX having a nice move up.
We're glad we alerted our EXCLUSIVE CLIENTS when we first saw it moving above the 20ema which was a positive sign end March. SGX was trading at $9.97 and have since seen a 6% upside in about 2 weeks.
SGX might move up to challenge its high of $10.72 and probably some profit taking might come in over there. After which if it gain some momentum we might see $10.80 then even $11 in the coming weeks or so.
Don't want to miss the next trade alert?
Be our EXCLUSIVE CLIENT and receive such trade alert sent straight to your handphone!
Don't miss out on our next alert! Be a client and find out how to be included in our whatsapp broadcast list.
Yours
Humbly
Kelwin&Roy