13th September, 2018, 5:26 PM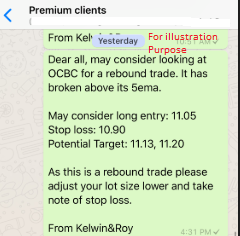 Chart Source : Poemsview 13th Sept 2018
OCBC a blue chip had a nice rebound today closing one cent off the day high at $11.14. Its first rebound for the last two weeks and we are glad we managed to catch and inform our EXCLUSIVE CLIENTS! just yesterday!
An early entry at $11.05 gave a nice upside target of $11.13 first and staying above might see it move towards $11.20. OCBC has also broken above its downtrend line with some volume which is a positive sign.
In such a market, staying nimble and not being greedy is important as this is a rebound trade we would want to be protecting our profits along the way because who knows what Donald Trump might say to stir the markets again.
It's important to stay alert and be flexible in this market as we continuously inform our client just like this OCBC trade analysis. An opportunity arise and its important to grab it.
Don't want to miss such a trade analysis?
Need an extra pair of eyes during market hours?
Wait no more and ACT NOW to join our community and get such real time trade analysis sent to your handphone with ease.
Be Kelwin & Roy's client to enjoy such value added services to get an edge in the markets.
See you onboard!
Yours
Humbly
Kelwin&Roy