27th May, 2021, 7:26 PM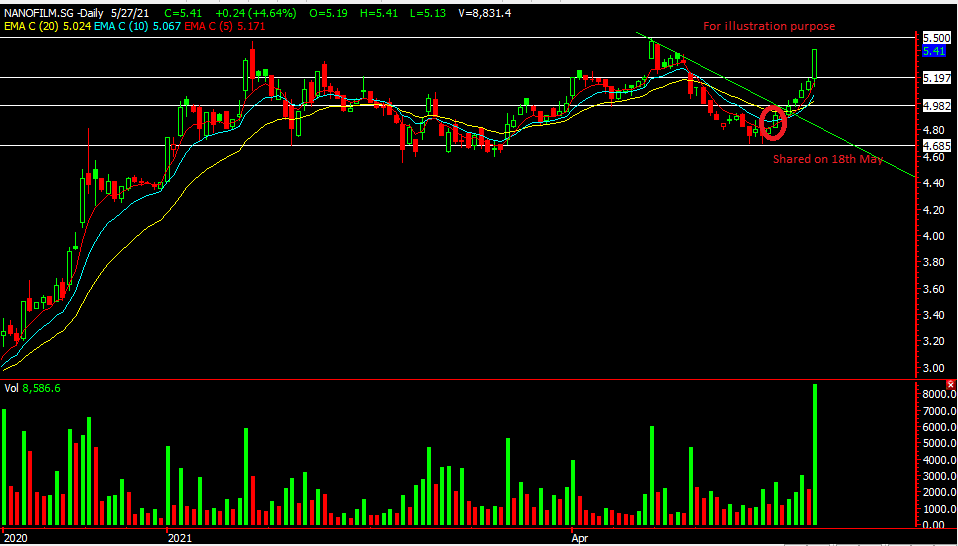 Chart source: Poemsview 27th May 2021
Nanofilm went above our expectation after covering the gap. Just over a week back, we mentioned that Nanofilm was finding a firm  support at around the $4.70 range. From then on it started its rebound climbing up steadily and eventually meeting our rebound targets. As a bonus, during the closing matching today, it actually closed a lot higher by 15 cents to eventually close at $5.41!
A possible reason might be rebalancing of the portfolio for  fund mangers as Nanofilm gets included in the MSCI small cap index together with IFast and some others. This might have caused the spike in the price as we saw some heavy matching for these stocks.
A pretty nice rebound for Nanofilm so fast, over 10% in just about a week. Nanofilm looks like it might challenge its all time high if $5.50 after which some profit taking is healthy in our view.
We hope you managed to learn something from our blog post and we hope to have you join our community if you have not done so yet.
Yours
Humbly
Kelwin&Roy