9th February, 2017, 11:57 PM
Hong Leong Asia- Up 8% since last blog post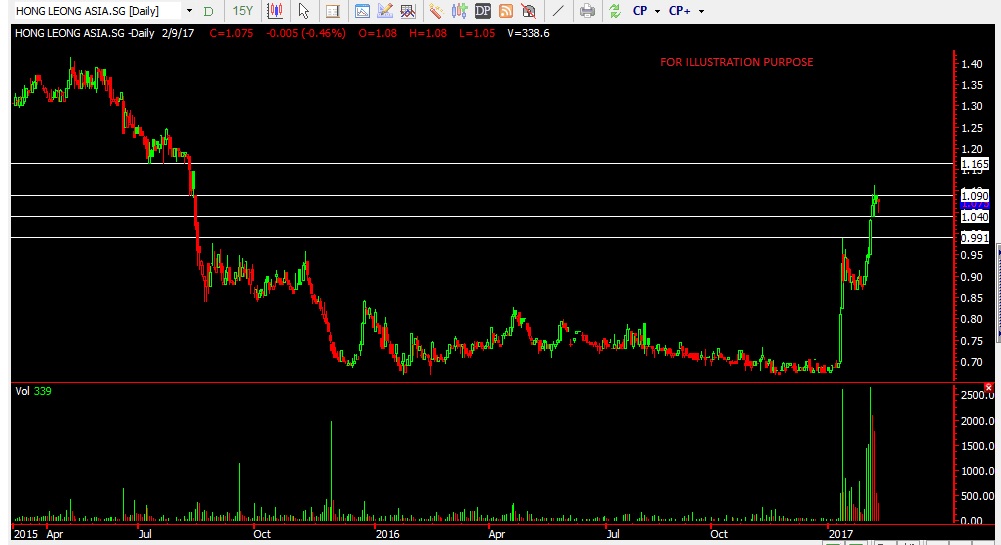 Hong Leong Asia , which triggered our entry setup at 0.995 last week on 3 Feb  , the next day after we blogged on 2 Feb , has had a pretty good run for the past one week rising beyond our targeted resistance of 1.04 and closed at 1.075 today, which is up about 8% since the entry setup was triggered.
In fact, it ran to a high of 1.115 on 7 Feb representing a increase of about 12%,  within 3 days after the entry setup was triggered.
Currently , it's now above the 1.04 previous resistance now turn support area and below its short term resistance area of 1.09 , if it rises above the 1.09 resistance level and stay above it , the next possible upside resistance may be 1.165 region . However it break below 1.04 support area , the next possible support area will be 0.99 which was the previous breakout point .
Yours
Humbly
Kelwin & Roy